Macular Degeneration
What is macular degeneration?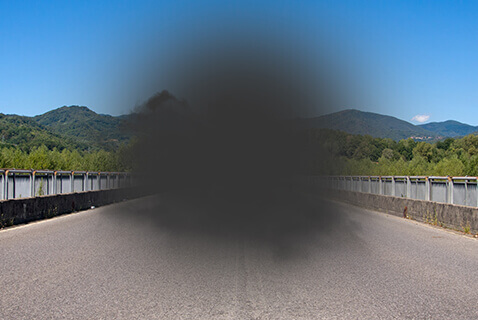 Macular degeneration is a deterioration or breakdown of the macula. The macula is a small area in the retina at the back of the eye that allows you to see fine details clearly and perform activities such as reading and driving. When the macula does not function correctly, your central vision can be affected by blurriness, dark areas or distortion. Macular degeneration affects your ability to see near and far, and can make some activities—like threading a needle or reading—difficult or impossible.
Although macular degeneration reduces vision in the central part of the retina, it does not affect the eye's side, or peripheral, vision. For example, you could see the outline of a clock but not be able to tell what time it is.
Macular degeneration alone does not result in total blindness. Even in more advanced cases, people continue to have some useful vision and are often able to take care of themselves. in many cases, macular degeneration's impact on your vision can be minimal. When macular degeneration does lead to loss of vision, it usually begins in just one eye, though it may affect the other eye later.
Many people are not aware that they have macular degeneration until they have a noticeable vision problem or until it is detected during an eye examination.
What causes macular degeneration?
Many older people develop macular degeneration as part of the body's natural aging process. There are different kinds of macular problems, but the most common is age-related macular degeneration (AMD). Exactly why it develops is not known, and no treatment has been uniformly effective. Macular degeneration is the leading cause of severe vision loss in caucasians over the age of 65.
The two most common types of AMD are "dry" (atrophic, non-neovascular) and "wet" (exudative or neovascular)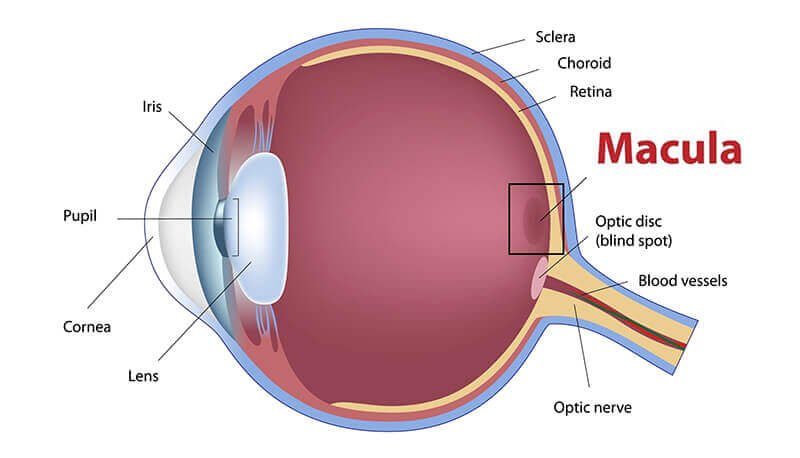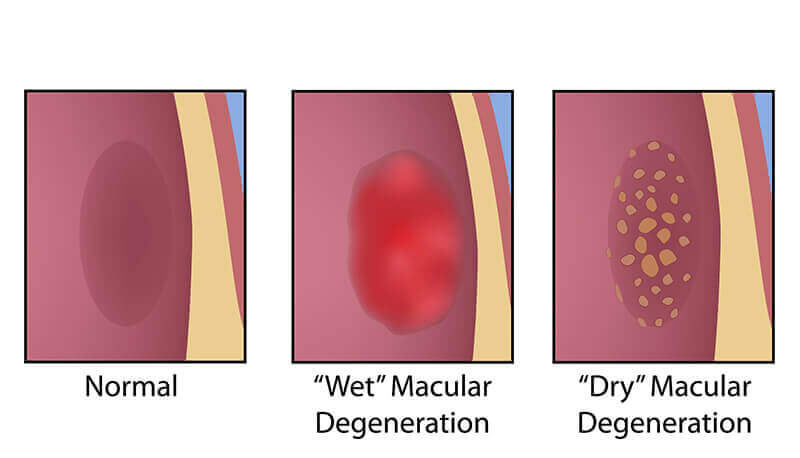 "Dry" macular degeneration (atrophic)
Most people have the "dry" form of AMD. It is caused by aging and thinning of the tissues of the macula. Vision loss is usually gradual. Macular degeneration usually begins when tiny yellow or white pieces of fatty protein called drusen form under the retina. Eventually, the macula may become thinner and stop working properly.
With dry macular degeneration, vision loss is usually gradual. People who develop dry macular degeneration must carefully and constantly monitor their central vision. If you notice any changes in your vision, you should tell your ophthalmologist (Eye M.D.) right away, as the dry form can change into the more damaging form of macular degeneration called wet (exudative) macular degeneration. While there is no medication or treatment for dry macular degeneration, some people may benefit from a vitamin supplement therapy regimen for dry macular degeneration.
"Wet" macular degeneration (neovascular)
About 10% of people who have macular degeneration have the wet form, but it can cause more damage to your central or detail vision than the dry form. Wet macular degeneration occurs when abnormal blood vessels begin to grow underneath the retina. This blood vessel growth is called choroidal neovascularization (CNV) because these vessels grow from the layer under the retina called the choroid. These new blood vessels may leak fluid or blood, blurring or distorting central vision. Vision loss from this form of macular degeneration may be faster and more noticeable than that from dry macular degeneration The longer these abnormal vessels leak or grow, the more risk you have of losing more of your detailed vision. Also, if abnormal blood vessel growth happens in one eye, there is a risk that it will occur in the other eye. The earlier that wet macular degeneration is diagnosed and treated, the better chance you have of preserving some or much of your central vision. That is why it is so important that you and your ophthalmologist monitor your vision in each eye carefully.
What are the symptoms of macular degeneration?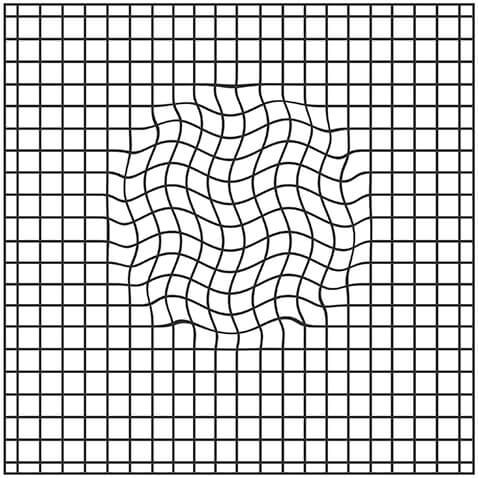 Macular degeneration can cause different symptoms in different people. The condition may be hardly noticeable in its early stages. Sometimes only one eye loses vision while the other eye continues to see well for many years. But when both eyes are affected, the loss of central vision may be noticed more quickly.
Vision loss may be detected as:
words on a page look blurred;
a dark or empty area appears in the center of Vision
straight lines look distorted (see diagram)
If you have been diagnosed with macular degeneration, you should use a chart called an Amsler grid every day to monitor your vision. You may find changes in your vision that you wouldn't notice otherwise. Putting the grid on the front of your refrigerator is a good way to remember to look at it each day. (click for more information on Amsler Grid self monitoring)
Who is at risk for macular degeneration?
Many older people develop macular degeneration as part of the body's natural aging process. Being over 60 years old is the greatest risk factor, however other important factors include having a close family member with the disease, smoking, and high blood pressure.
How is macular degeneration diagnosed?
Many people do not realize that they have a macular problem until blurred vision becomes obvious. Your ophthalmologist (Eye M.D.) can detect early stages of AMD during a medical eye examination that includes the following:
a simple vision test in which you took at a chart that resembles graph paper (Amsler grid);
viewing the macula with an ophthalmoscope
taking special scans and photographs of the eye called optical coherence tomography and fluorescein angiography to find abnormal blood vessels under the retina.
How is macular degeneration treated?
Dry AMD and nutritional supplements
Unfortunately, at this time there is no single proven treatment for the dry form of macular degeneration. However, a large scientific study has shown that antioxidant vitamins and zinc may reduce the impact of macular degeneration in some people by slowing its progression toward more advanced stages.
Wet macular degeneration treatment
Treating the wet form of macular degeneration may involve the use of anti-VEGF treatment, thermal laser treatment or sometimes photodynamic therapy (PDT). Treatment of wet macular degeneration generally reduces—but does not eliminate– the risk of severe vision loss.
Anti-VEGF medication injection treatments for wet macular degeneration
A common way to treat wet macular degeneration targets a specific chemical in your body that causes abnormal blood vessels to grow under the retina. That chemical is called vascular endothelial growth factor, or VEGF. Several new drug treatments (called anti-VEGF drugs) have been developed for wet AMD that can block the trouble-causing VEGF. Blocking VEGF reduces the growth of abnormal blood vessels, slows their leakage, helps to slow vision loss, and in some cases improves vision.
Your ophthalmologist administers the anti-VEGF drug (such as Avastin, Lucentis, and Eylea) directly to your eye in an outpatient procedure. Before the procedure, your ophthalmologist will clean your eye to prevent infection and will use an anesthetic drop or injection of anesthetic with a very fine needle to numb your eye. You may receive multiple anti-VEGF injections over the course of many months. Repeat anti-VEGF treatments are often needed for continued benefit.
Laser treatment for wet macular degeneration
Although most cases of wet AMD are treated with medication, in some instances laser therapy such as photodynamic therapy (PDT) may be used. The laser beam in this procedure is a high-energy, focused beam of light that produces a small burn when it hits the area of the retina to be treated. This destroys the abnormal blood vessels, preventing further leakage, bleeding and growth.
What happens when macular degeneration cannot be treated?
It is important to remember that only about 10 percent of all macular degeneration cases are exudative, or wet form, and about 75 percent of these cases cannot be treated. People with wet or dry macular degeneration symptoms who cannot be treated will not become blind, as they will still have peripheral, or side, vision.
If you have untreatable macular degeneration, you can make the most of your remaining vision by learning to "see again" with the vision you do have and with the help of special low-vision rehabilitation, devices and services. People with low vision can learn new strategies to accomplish daily activities. These skills, including mastering new techniques and devices, help people with advanced AMD regain their confidence and live independently despite loss of central vision.
While there is little that can be done to improve the eyesight of someone who has AMD, with early detection, the rate of vision loss can be slowed. The keys to slowing vision loss are to understand macular degeneration, monitor your symptoms and visit your ophthalmologist regularly to test your vision. Even with macular degeneration, you can still maintain an enjoyable lifestyle.